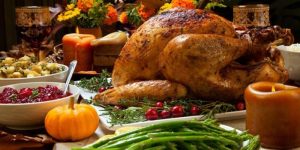 Thanksgiving Dinner will be held
Thursday, November 28,2019 at 2:30 PM
The kitchen crew will prepare the turkey and gravy, potatoes, coffee and tea.
Bluebonnets will fund the turkey up to $75.
Each table will provided their own table service.
Reminder-Free dinner is for Members, their families and Registered Guests.
One person at each table will serve as the Host/Hostess for their table.
They will contact the people signed up for their table and determine which side dishes each person will prepare for that table only.
White tablecloths will be on each table. The Host/Hostess may decorate their table however they choose.
Each table may have a MAXIMUM OF 10 people.
Hosted and submitted by Rose and Phil Schafer Lot #14