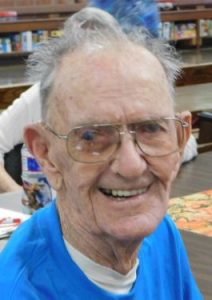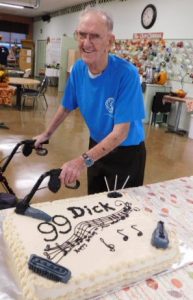 On 
Sunday afternoon, November 24th at 4PM
, a special social was held in the 
Clubhouse
 to honor 
Dick Platte, Lot 76.
  Dick celebrated his 99th birthday on November 23rd.   Ice cream and cake were served, the 86 guests in attendance sang 
Happy Birthday
to Dick.  His daughter Sharon was also in attendance.  Mr. Platte is an original member of the Lone Star Corral and has been a member here for 32 years.
Special thank you to Minta Ross, Lot 122 for the delicious cake she designed and baked and also to Brenda Coghill, Lot 67 for her invaluable help in the kitchen.
Submitted by The Bluebonnet Officers