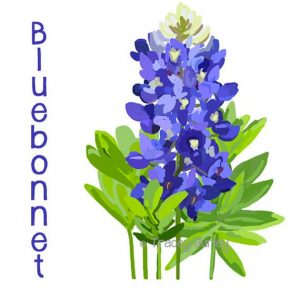 Named after the Texas State Flower, the Bluebonnet Auxiliary of the Co-Op raises funds for and organizes social functions. Every Co-Op member is automatically a member of Bluebonnets and we encourage you to attend monthly meetings to help plan social and fund-raising activities for the park.  There is something for everyone and a way for everyone to help out.
The co-op is all about VOLUNTEERS!!  Getting involved is the best way to get to know other Members and feel part of the community.  Here are a few of the member committees and services we have:
ACTIVE BLUEBONNET COMMITTEES:
These committees are fully funded and supported by the Bluebonnet Auxiliary.
AUDIO/VIDEO: This committee monitors the sound and video equipment for functions taking place in the Clubhouse. They are responsible for purchasing batteries and ensuring that microphones are ready for official meetings and special events. You don't need any special skills to join this committee.
BINGO: This committee oversees the setup and breakdown of the Clubhouse for BINGO games on Friday night. They also chose the games and take care of the equipment. They get callers and cashiers for the games. Again, we'll be glad to teach you!
CRAFTS: This committee is a group of craft oriented people covering many different areas. They work to maintain the Craft Corner in the Clubhouse and monitor the sales of crafts. Some of the proceeds are donated to the Bluebonnet Auxiliary.
DECORATIONS: This committee works hard to decorate our Clubhouse and grounds though out the year. No skill needed, just a willingness to have fun and 'make pretty'.
K-9 CORRAL: This committee maintains our "Dog Park". Making sure the toy basket is in good shape, ensuring the fence is secure and various other tasks.
KITCHEN: This committee works to maintain the kitchen is safe and clean. While they are not "maid service or valet", they have certain tasks to ensure the kitchen is ready when required for a Bluebonnet or other function. They also assist in helping members put on special events and functions by offering historical and other advice.
LIBRARY: We have an extensive book and movie collection in our LSC Library. Everything is free to check out and use. They are always happy for donations. The library is a nice quiet spot to pass some time browsing. No skills required here….just a desire to help keep things clean and organized.
NOMINATING: This is a temporary committee formed in January each year to help find people to run for the Bluebonnet Officer positions. No skill required. The committee is dissolved after the March Bluebonnet Officer elections.
SUNSHINE: The committee ensures that our members who are hospitalized or recovering receive a card of encouragement. Also, in the case of a members passing, a condolence card is sent to the family.
TREASURE TABLE: This area in the Clubhouse is reserved for items that are 'gently' used and still have purpose and life in them. No skill required, just a willingness to help keep the table properly stocked and clean.
WAYS AND MEANS: This committee is chaired by the Vice-President of the Bluebonnet Officers. Its purpose is to come up with fund raising ideas and the means to do them by recruiting volunteers and other help.
BLUEBONNET MEMBER SERVICES
These are programs that are usually handled by one or more individuals. They may often be funded and are fully supported by the Bluebonnet Auxiliary.
BIRTHDAY/ANNNIVERSARY CAKES: Volunteers to bake a cake or cupcakes once a month for the Birthday/Anniversary Ice Cream Social. Held on Sunday evenings at 6PM, it recognizes the birthdays and anniversaries for that month and the month 6 months forward.
CONCESSIONS: This is a member who chairs and handles the concession refrigerator in the Clubhouse. They shop for supplies, ensure they are priced properly and maintain the paperwork and funds.
SOCIAL HOURS: Social Hours are held 3 days a week, Monday, Wednesday and Friday at 4PM in the Clubhouse. Hosts are always needed. Only skill required is the ability to speak informally in front of others, inform them of upcoming events, etc.
ICE CREAM SOCIALS: The Ice Cream Social is held every Sunday evening from 6-645PM in the Clubhouse. Ice cream is provided by the Bluebonnet Auxiliary. Volunteer hosts serve the ice cream and collect the $1 fee, turning it over to a Bluebonnet Treasurer or other Officer. Some minor set up and clean up is required as well as the ability to introduce guests.
MEMORIAL PLAQUE: This is a volunteer member who ensures that our memorial wall is maintained by ordering the placing the gold name plaques of any current member who passes away on the board.