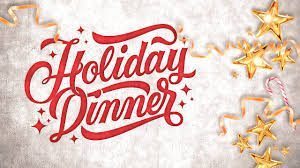 Sign up sheets are in the Clubhouse for the Christmas Dinner, 2pm on Christmas Day.
You can host a table or sign up to join a table. The host(s) can decorate their table as they wish. Then have your tablemates furnish their favorite dishes and desserts for your table to add to the menu.
Christmas dinner menu furnished will be Ham, mashed potatoes, yams, sweet peas, fruit salad, rolls and butter, tea and coffee prepared by George Freelan and John Stewart and their merry band of volunteers.
Sign up quickly and come join for good food and fellowship.
Merry Christmas🤶🎅
contact Anna Hoppe Lot 75     830 410 9111
PS: We need volunteers for clean up and other jobs. Let me know if you have any questions.