Saturday, February 8th at 5:00PM at the Clubhouse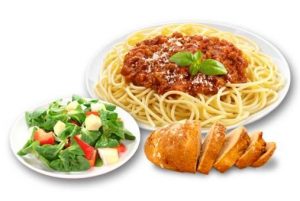 Join your friends for a great evening of food, fun and fundraising on Saturday, February 8th at 5:00PM. For the bargain price of $5.00 you'll be served (that's right, no standing in line)spaghetti and meatballs, tossed salad, garlic bread, dessert and beverages (tea, water and coffee).
After dinner, starting around 6:00PM will be our Annual Brown Bag Auction.  We have new auctioneers making their debut this year and it should be a blast! This is a great time to pick up some interesting and fun items. See the flyer below for details on how the Auction works.  This is a major fundraiser for the Bluebonnet Auxiliary so we can fund projects, purchases (like the new refrigerator) and fun events.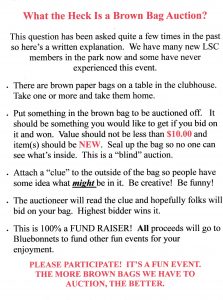 The signup sheet and brown bags are in the clubhouse. Sign up sheets ill be picked up Thursday, February 6 in the evening.
Submitted by Bluebonnet Auxiliary Officers