Saturday, February 8th after the Spaghetti Dinner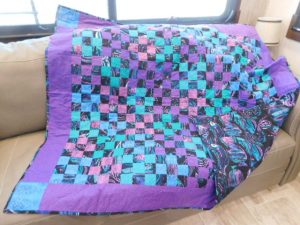 SPECIAL BROWN BAG AUCTION ITEM – REVEALED!
Each year at the Brown Bag Auction, we try and have a special item to bid on that is very unique and not in a bag!  Last year, we had a military memorial wood scroll plaque donated by the late Keith Dickman that brought in over $200.  Normally this special auction item is not revealed until the night of the auction. However, this year, we are going to reveal it in advance.  We have a distinctive, one of a kind quilt to offer for auction.  It is named the Amish Fish Quilt, named because of the colors and the nine-patch pattern. The quilt is hand quilted and beautifully sewn with variegated thread which changes colors though out the quilt. It has a nine-patch design on the front, and a fish motif on the rear in primarily purple and blue.  It won a Blue Ribbon at the Chesterfield County Fair in Virginia.  It is approximately 4 feet by 4.5 feet and has a pocket for wall hanging.  Randi Rigsby ( Lot 111), is the quilter and has donated the quilt to the Auction, a fundraiser for the Bluebonnet Auxiliary.  The Brown Bag Auction will take place after the Spaghetti Dinner on Saturday, February 8, 2020 at 5PM.
If you'd like to get a close up peek, the quilt will be available for viewing on Friday, February 7th from 1PM  until 4PM in the Clubhouse; it will be displayed again on Friday evening from 6-9PM during BINGO.  It will also be on display on Saturday from 11AM until auction time.
A special thank you to Randi Rigsby for sharing her talents with us and supporting the Bluebonnet Auxiliary Fundraiser!
Submitted by the Bluebonnet Officers