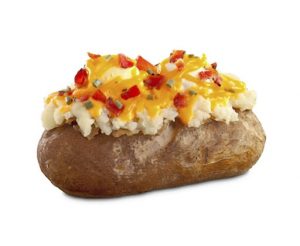 Tickets are now available for our annual Baked Potato Supper!  It will be served on Saturday, February 6, 2021 from 5:00 – 5:30 PM at the Clubhouse. Due to the restrictions of Covid and making sure we keep everything safe for our Members and guests, it will be another "Grab N Go" style dinner.  You may eat in with friends, pick up to take home or have it delivered to your Lot!
Supper will be a choice of white or sweet potato.  With a large (1.25-1.50 lbs) white potato, you'll get butter, sour cream, cheese, chives and bacon. For large sweet potato, you get butter, brown sugar and cinnamon.  Dessert is included with both meals and the current plan is a piece of cake.  There will be no beverage service provided, so if you're eating in at the Clubhouse, please bring your choice of beverage.  All meals are in individual containers and include required flatware.
All meals will be prepared, cooked and served in accordance with current CDC guidelines for social club meals. This includes sanitation of surfaces, limited access to kitchen and food product, masks and gloves for all handlers.
Cost of tickets are $6.00. For delivery, please add $1.00 extra.  Tickets are available in the LSC office or from Patti Coble, Lot 110 or Samme Buck, Lot 101.
Thank you for supporting your Bluebonnet Auxiliary.
Submitted by The Bluebonnet Officers