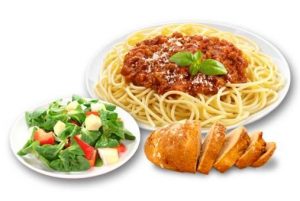 Want a night off from cooking dinner? We'll help you with that with a Grab N' Go Spaghetti Dinner.  
The Bluebonnets are sponsoring the dinner on Saturday, December 19, from 5:00 to 5:30 pm. 
For $6.00 ($7 per delivered meal to your lot) you'll get spaghetti with meatballs, tossed salad with dressing, garlic bread and dessert.  You can eat in the clubhouse, take out or have your meal delivered to your lot. 
Advanced ticket sales only
.  See any Bluebonnet Officer (lots 101, 110 or 111) or the LSC Office to purchase your tickets.  Deadline for ticket purchase is December 17.
No beverage service will be offered so if you plan to eat in, bring your own beverage.  Table service will be provided.
This meal will be prepared and packaged for take-out in the LSC kitchen and CDC safety guidelines will be followed.