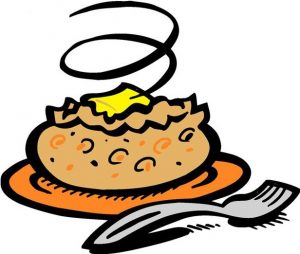 The  Annual LSC Baked Potato Supper, will be on January 25th @ 5 PM in the LSC Clubhouse.
You will have a choice of a regular baked potato or baked sweet potato with all the tri
mmings.
This is a served meal. You need to bring your own silverware. Paper boats will be provided for the potato. 
Coffee, tea, and water will be available: however, you are welcome to bring a different beverage of your choice.
Condiments will be on the table and your potato will be brought to you. And…dessert will be provided. We look forward to seeing you there. 
This event is hosted by Richard & Karen Headley, Gail Beezley, and Lori and Brad Formo.
Information and sign up sheets are on the table in the Clubhouse. Sign up sheets will be picked up on Thursday, January 23rd, around noon. Price is $5.

Submitted by Richard Headley, Lot 40