On Tuesday evening, December 31st, a New Year's Eve Casino Night Fundraiser was held in the Clubhouse. Blackjack, Beat the Dealer, Wheel of Fortune, One Armed Bandit, the Board Dart Board and Poker Dice were played. Guests and members popped over 250 balloons throwing darts at photos of our Board Directors.  The highlight of the evening however had to be the Horse Races, sponsored by the Sunny Lefebvre Stables!  Complete hilarity ensued as our LSC jockeys tried to win the race and take home bragging rights. Sunny had a full time job as wrangler keeping that crew in check!   A carrot, an apple and a large doggie waste bag (thank you Howard!) were all required to get these jockeys down the track!  
Thank you to all the donors who gave us items for the Silent Auction.  All items were sold at or above their reserve price!  The Crazy Cat Quilt donated by Randi Rigsby was the high bid of the night at $121.00 ($1210.00 Casino Bucks)….followed by the Jim Mossman's Wood Butterfly taking in $72 ($720.00 Casino Bucks).

Linda and Samme want to send A SPECIAL THANK YOU to all the volunteers who worked so hard to make the evening such a success, too many of you to list by name, but you know who you are!   A couple of mentions, Dale and Cheryl Curtis and their crew for working in the kitchen serving pizza, nachos, and other snacks throughout the evening.  Sunny Lefebvre for her many hours of hard work finding jockeys, wrangling horses and passing out flyers!  Our Cashier, Cora Wheeler,  who stayed cool under all pressures.  Sandi Parker and Pat McCubbin for stepping up to the gate, literally,  at the last minute to help out with the horse races!  Howard Hatfield for helping move a LOT of tables and chairs!  Larry Smith and Marlene Moir for always being there and ready to help.  Larry Brogan for your amazing ladder work, so many trips up and down and you always did it with a smile.  Our guests in the park who worked as well, Neal and Jan;  and Len and Linda for working games!   Our spouses who endured a lot of work and many months of discussion on the subject, Jim Mossman and Richard Buck.
Thank you also to Kayla, Nancy and Sherri in the office  for their talent and help though out this planning process.  Right up to the last minute, their help was invaluable to making our evening a success!  Thank you so much!  I really don't think this would have happened without YOU three.  
Exact figures raised will be given at the Bluebonnet Meeting on January 15th. However, we raised over $800 and after expenses, more than $700 will go to The Bluebonnet Auxiliary.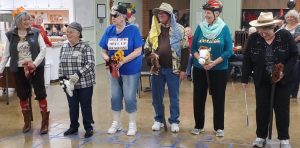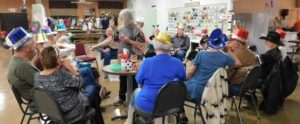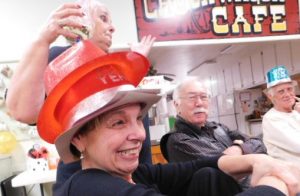 Pictures:
(l to r)  Jockeys: Marlene Moir, Carolyn Taylor, Sharon Ashford, Pat McCubbin, Margie Strickler and Sandi Parker

Valerie Payne, Lot 89, having a good time!

Jo Palmer (guest, Lot 62) pours refill champagne at the midnight toast.

Photographs by Jim Mossman, Lot 60 and Samme Buck, Lot 101

Submitted by Linda Mossman, Lot 60 and Samme Buck, Lot 101