Come to the Clubhouse on Wednesdays at 6PM to play Cornhole.
This fun beanbag toss game is easy, stimulating, good exercise and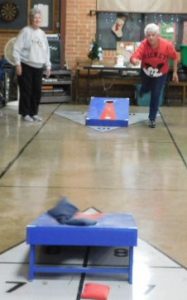 improves hand-eye coordination. In this photo,  Sarah Sirak, Lot 105
demonstrates some perfect one foot posture as she waits to see if her
beanbag goes in the hole.  Bring a beverage and enjoy the fun and
company!  Thanks to Ron Maurer, Lot 132 and 
Joe Bob Jackson Lot 129 for building the game! 
Submitted by the Bluebonnet Officers