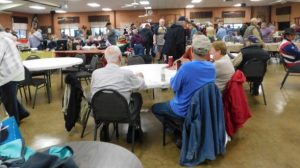 On Saturday, March 2, 2019, the Lone Star Corral welcomed members of the local communities for our annual Flea Market.  The response was so great, that Larry Brogan, our gate guard, had to open the Flea Market 10 minutes early, due to the long line of cars waiting on the street.  Sales began briskly, with porch items going quickly.  Our members tables inside were equally busy.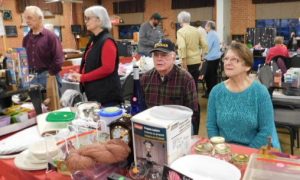 Everyone enjoyed meeting and greeting many persons who have visited our flea market before.  Pat and John Swatloski, Patsy Moberly and Larry Smith enjoyed meeting guests. The kitchen volunteers were equally busy, serving both breakfast and lunch to workers and guests alike.  The bake sale table, always popular, did not disappoint this year.  Sandra Million sports a jaunty hat as she waits for her food at the café.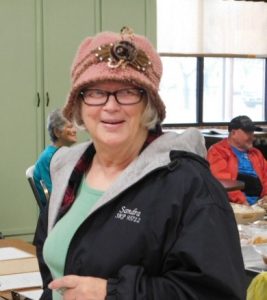 Enjoying some fun at the Craft Corner, Bill Thoday, Kay Markle, and Cyrissa Grimes handled the sale of items from all our clever crafters!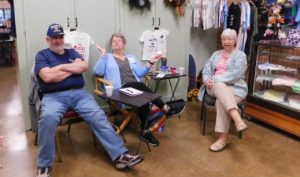 Kathy Trice enjoys a laugh.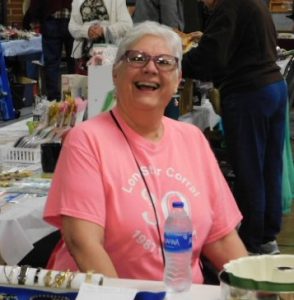 The clean up crew, just too many to be mentioned, did an amazing job at restoring the Clubhouse to its normal operation.  The Flea Market ended at 1 PM and before 2 PM, everyone was finished up!  AWESOME TEAMWORK EVERYONE!   Thanks to our overall coordinator, Larry Smith and his team; outside sales, Edmund Strickler and his team; Bake Sale Table, Juanita Whitlock and her team; the Treasure Table Sales, Sandi Parker and her team; and the Kitchen sale coordinators, Dale and Cheryl Curtis and their team!  See you next year!