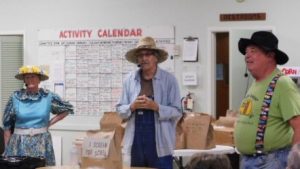 On Saturday night, over 80 people attended the Baked Potato Supper and Brown Bag Auction held at the Clubhouse. Over $2000 was raised between the two events for the Bluebonnets! Final figures on both events will be given at the Bluebonnet Meeting on February 20th.  Thank you to all who came out to support these two fundraisers for The Bluebonnets. Our guest Auctioneers delighted the audience.  A big Thank You to Cousin Minnie Pearl, Uncle Nabob and Brother for all their hard work. Sure was great to see them in the park again.
We thank everyone for attending!!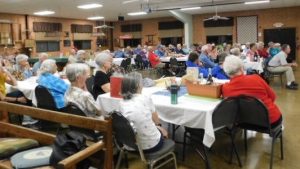 Thank you also to the WHOLE TEAM who worked so hard to put on this event, Jim & Patti Coble, Lot 110; Dale & Cheryl Curtis, Lot 102; Dennis & Cindy Smith, Lot 108; Bill Thoday & Kay Markle, Lot 118; Jim & Randi Rigsby, Lot 111; Richard Buck, Lot 101, & Mary Olstad, Lot 21.   It could not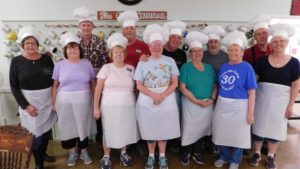 have happened without YOU! SPECIAL THANK YOU to Patti Coble for making our precious chef hat's and aprons!! Thank you also to Mary Brogan, our Bluebonnet Treasurer for acting as cashier for both events.  Thank you to Edmund Strickler for handling the lottery ticket pool!
Samme Buck, Lot 101